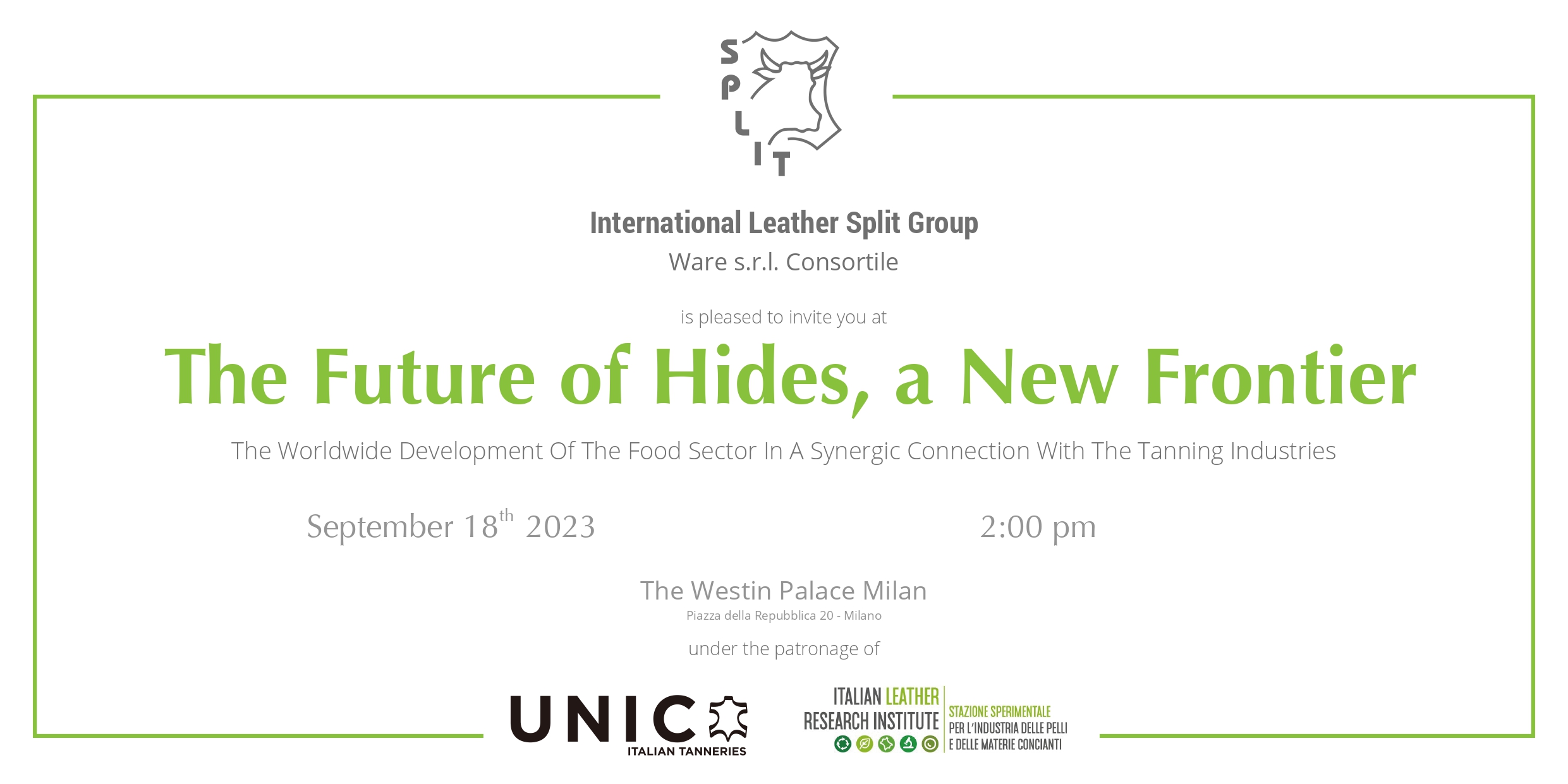 Given the great success and the interest of last year first edition of the event "The Future of Hides, a New Frontier: an open discussion on the future of bovine hide transformation for the next decade", the International Leather Split Group considered it necessary to repeat. "The Future of Hides, a New Frontier: the worldwide development of the food sector in a synergic connection with the tanning industries" is the title of the second edition of the exclusive event to be held on September 18, 2023 at The Westin Palace (Milan) under the patronage of UNIC and the Italian Leather Research Institute.
The great topicality of the theme led also to the second edition of the meeting; on the one hand, less and less leather that the tanning industry has the ability to absorb, on the other hand a growing use of collagen protein in the most various industries. This phenomenon affects not only particular areas of the continent, but is a global phenomenon.
This aspect is the first element of study of the second edition of the event. The intent is to bring to the table testimonies of multinational companies present in all continents that will inform us and indicate the new development trajectories of the various sectors they manage. These are companies producing leather and, at the same time, users both in terms of tanning and food. Precisely this will be the other central theme of the discussion: the tannery not competitive to the new world, but synergetic.
Remembering the interlocutors of the last edition, also this year the strong desire is to bring back to the audience – even if not for all sectors – experiences of other important companies that use leather for the most varied uses.
The International Leather Split Group has the honour to welcome the following esteemed speakers for the second edition of the event: Luca Boltri, Deputy Director of UNIC; Claudia Florio, Head of Scientific Research Programmes at the Italian Leather Research Institute; Matt Curtis, Director of the NIKE project "Grind Project"; Vidhya Belapure, Vice President M&A Integration and Business Transformation at Huber Engineered Materials with the project ILSA GAP Project (Global Aminoacid Production); Michael Van Elsacker, Chief Operating Officer of the company Gelita; Chris Armstrong, Executive Director of Devro; Tony Mammen, General Manager Hides & Special Projects of Allana; Bekir Burak Uyguner, President of Gelner Gida and President ICT (International Council of Tanners).